---
Biography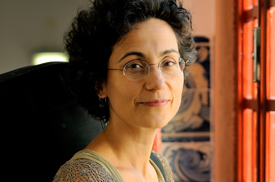 Rita Mendes studied violin at the National Conservatory of Lisbon and continued her studies at the Rotterdam Conservatoire (Holland), where she graduated in violin pedagogy.
She studied methodology with Peter de Leeuw (Rotterdam Conservatoire), Johannes Lievaart (Suzuki Method), Joyce Tan (Utrecht Conservatoire) and Qui van Woerdekom. She taught at music schools in Rotterdam, Woerden, Gouda and Zoetermeer.
She attended post-graduate courses in pedagogy with Sheila Nelson (Guildhall School of Music and Drama), Caty Shepheard (teacher at the Musik Hochschule Dusseldorf) and with the founders of the Colour Strings method (East Helsinki Music Institute).
After returning to Portugal, she was Pedagogical Director of the Conservatoire of Leiria.
She organizes events to make the violin better known to the public at large in primary schools, libraries and cultural centres.
She was invited to present the Violin Party project in Cape Verde in the presence of representatives from UNESCO.
She currently teaches at the Linda-a-Velha Music School, and is organizing an experimental project in violin teaching in groups at the SMUP in Parede.
---
Support
The creation this project was only possible thanks to the collaboration of innumerable friends, in the Netherlands and in Portugal.
The violins were bought and repaired by the luthiers Robert Walters in Rotterdam, the Bouman family in The Hague, Judith Bauer in Lisbon, Mr Rodrigues and Fátima from the shop in Carcavelos and Maria José Sebastião.
The logo is by Planeta Tangerina. Pedro Senna Nunes and Adolfo Estrada made decisive contributions to the publicizing of the project for the Portuguese and Dutch video versions respectively. The composer Vasco Negreiros enriched the project with original music. The photographers Edward Susanna, Margie Geerlinks, Peter Vinken and Kim Schonewille, made their photographs available. The website was conceived and designed by Maria Trigo.